Success Story: Coastside Baking Co.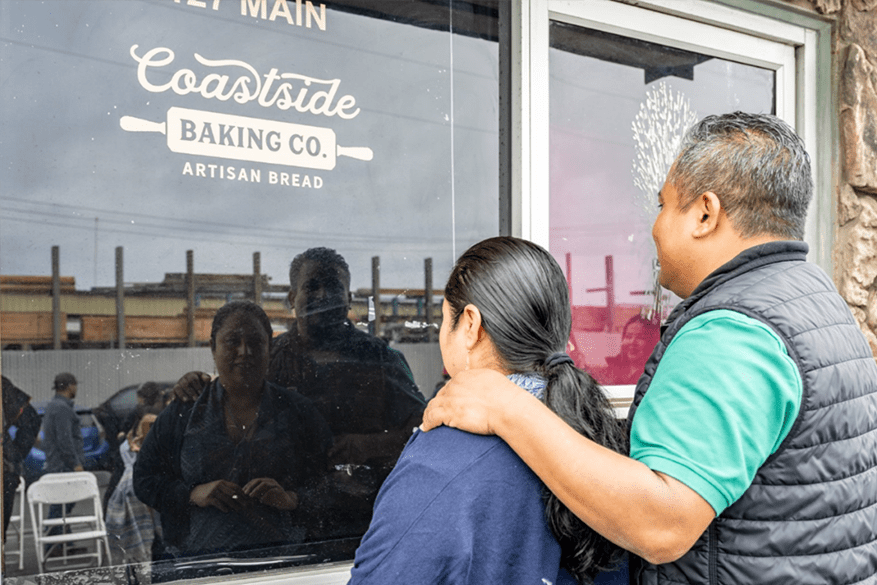 Location: Northern California – Half Moon Bay
Small Business Featured: Coastside Baking Co.
Assistance Received: Training, Access to Capital
Meet Salomon & Carmela Silva – The New Owners of Coastside Baking Co.
Salomon moved to Halfmoon Bay from Santiago Apóstol Oaxaca, Mexico, in 2005. He came to Half Moon Bay looking for a better future for himself and his family and found his first job as a farmworker. Being new to the country, Salomon was open to working in whatever was available. However, Salomon had been a baker in Mexico since he was ten years old and hoped he could continue his trade.
Three months after his arrival, he found the job he was looking for at Moonside Bakery. Years later, he met Carmela, his wife, with whom he has three children.
In 2010, Salomon and his wife started selling Mexican bread, seeking to share the recipes he had learned in Oaxaca with other Mexican families. Thomas and Barbara, owners of Moonside Bakery, supported him by letting him bake at the bakery where he worked. Since then, Salomon and Carmela have shared their love for baking, culture, and traditional "pan dulce" with local families in Half Moon Bay.
In 2019, Thomas and Barbara Grauke decided to sell the business and asked Salomon if he was interested in buying. Despite the offer, Don Salomón had no idea what the process would be like or if it was even possible for him to buy the business he had worked for since he came to the United States. However, Salomon was not ready to give it up. He understood that purchasing the bakery was a dream and an opportunity to secure his job and his family's livelihood.
Salomon and his wife began looking for funding to support the purchase. They contacted local banks, one of which shared the contact information for the San Mateo Small Business Development Center (SBDC). Salomon called but was skeptical of the help he could receive since he had never heard of an organization that helped small business owners. SBDC staff connected him to work with a business advisor, Mar Y Sol Alvarado, who helped explore options as they pursued the purchase of the bakery. In 2022, the Grauke's sold a portion of the business, Moonside Bakery & Cafe, a retail storefront, to another staff member.
Salomon and Carmela became the proud owners of Coastside Baking Company in March of 2023. Together, with their employees, they will continue to offer new and existing customers baguettes, bagels, sourdough, whole wheat bread, and hamburger bun, among others the bakery is known for. They are also looking to grow their traditional "pan dulce" sales, expanding to other cities near Half Moon Bay as well as being able to make all their bread known at local and new supermarkets.
Visit the Coastside Baking Company at 127 Main Street in Half Moon Bay.
Sign up to be a client today of the San Mateo SBDC.
California Office of the Small Business Advocate
1325 J Street, Suite 1800
Sacramento, CA 95814
Email CalOSBA
About Us