Success Story: Pacific Ink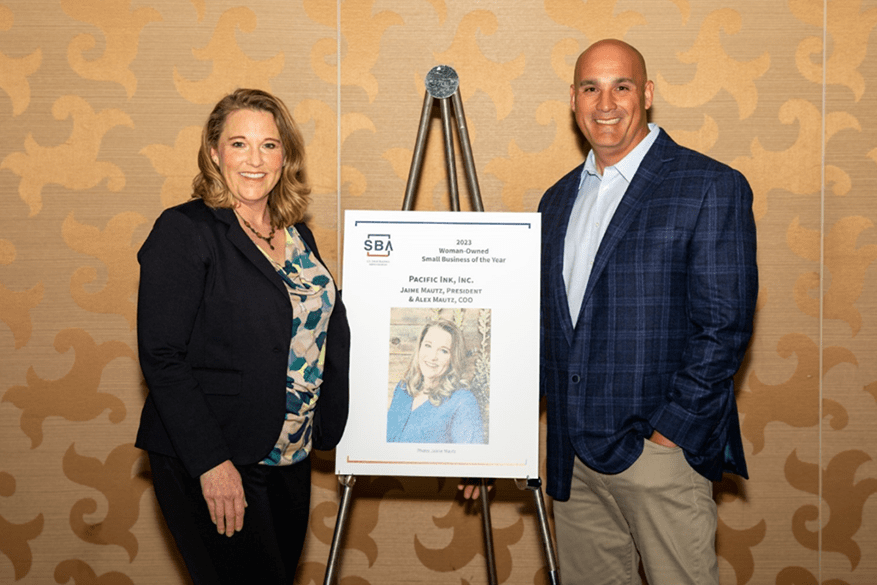 Location: Southern California – San Diego
Small Business Featured: Pacific Ink, Inc.
Assistance Received: Training, Access to Capital
Congratulations to Pacific Ink, Inc. on the 2023 U.S. Small Business Administration Women-Owned Small Business of the Year Award
Pictured here left to right, Jaime Mautz, President and Alex Mautz, Chief Operating Officer and co-founders of Pacific Ink, Inc. launched their small business in 2000. Fast forward twenty-three years to now – they are the winners of the 2023 U.S. Small Business Administration (SBA) San Diego District Women-Owned Small Business of the Year award. They were honored and celebrated at the 2023 SBA San Diego District Awards event on May 9, 2023.
How did they get here? With a lot of hard work, dedicated support from the North San Diego Small Business Development Center (SBDC), and a key access to capital connection that spurred the growth of their business.
In 2001, shortly after starting their new small business, Pacific Ink needed help with accounting, so Jaime reached out to the San Diego & Imperial Valley SBDC Network and was connected with the North San Diego SBDC. She went to one of their workshops, which led them to 1-on-1 consulting. Through these consulting and training services, this support helped them connect with U.S. Bank representatives to access loans and capital to grow their business.
Pacific Ink initially launched with the intention to sell ink and toner. With guidance from the SBDC, the business grew to sell all office supplies, then expanded to selling facility maintenance supplies – think a cross between Home Depot and Office Depot.
Once Pacific Ink secured General Services Administration (GSA) contracts in 2004 with the federal government, they were off to the races. Their business has evolved into approximately 95% government and multi-million dollar federal and military contracts. Their business model drop ships through all of their suppliers and is growth focused.
Valley Center for the Blind provides customer service for the Pacific Ink call center to respond to customer inquiries. Jaime and Alex felt it was important to give back and engage the blind and low-vision community to provide economic mobility and employment opportunities to this underserved labor force and to do their part to combat the approximately 70% unemployment rate for blind and low-vision adults.
Pacific Ink holds DBE/WBE certifications at the state level and WOSB/EDWOSB at the federal level.
View the full list of SBA 2023 San Diego District Office award winners here.
Visit the Pacific Ink store online here, contact them at serviceteam@pacificink.com or by phone at (877) 838-6843.
Sign up today to be a client of the San Diego and Imperial Small Business Development Center Network here.
Learn about Valley Center for the Blind customer service call center and industry services here.
California Office of the Small Business Advocate
1325 J Street, Suite 1800
Sacramento, CA 95814
Email CalOSBA
About Us