Success Story: Tres Fuegos Cocina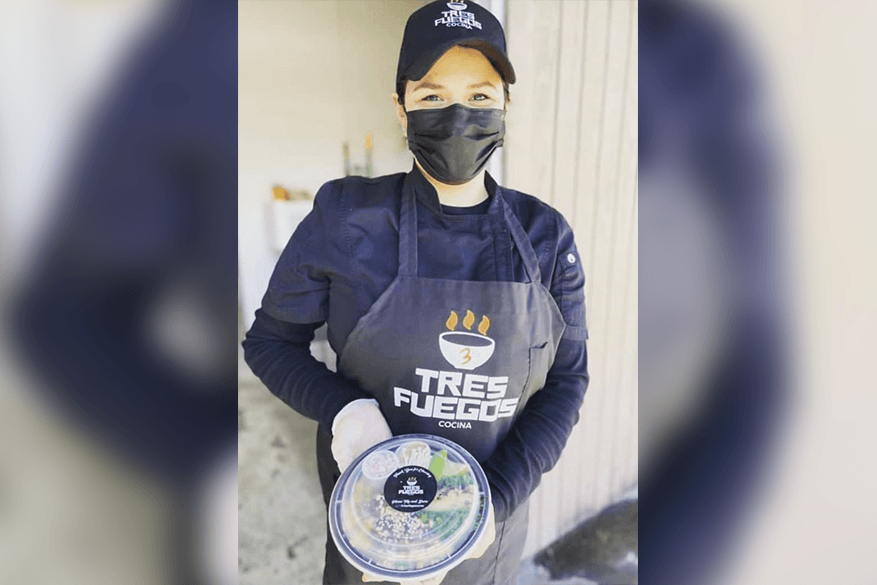 Location: Southern California – Chula Vista
Small Business Featured: Tres Fuegos Cocina
Assistance Received: Dream Fund Grant; Training
Check out this success story from the San Diego & Imperial Valley Small Business Development Center (SBDC) featuring Diana Tapiz of Tres Fuegos Cocina, a Mexican and Japanese fusion restaurant. Diana successfully completed the California Dream Fund Program training with the SBDC and is in the process of applying for the Dream Fund grant.
Now, about that food… Ever had a craving for soup and wanted to try something new? How about birria ramen or tonkotsu posole? Sounds delish! And now you can try these unique dishes at Tres Fuegos.
Diana grew a dream from her home-based business into a fresh food and catering operation. Diana had to pivot her business model to curbside pickup during the pandemic, which increased the buzz for birria ramen and chile relleno de birria in San Diego County.
Diana opened a commercial kitchen back in 2020. Then the pandemic hit. She realized the expenses of running the commercial kitchen exceeded her revenue and was not the most sustainable model for her business at the time.
With the help of the recently established San Diego County Microenterprise Home Kitchen Operation (MHKO) permit, Diana was able to pivot her model from a commercial kitchen back to her home kitchen to help save overhead costs.
Now, after the heatwave in SoCal, she plans to pivot her model again to a backyard dining experience by reservation only, which is coming soon!
In the meantime, and for information on how to order food from Tres Fuegos Cocina, check out their Instagram, and Facebook.
Watch a short clip about Diana's journey here .
California Office of the Small Business Advocate
1325 J Street, Suite 1800
Sacramento, CA 95814
Email CalOSBA
About Us