Success Story: Triassic Vinyards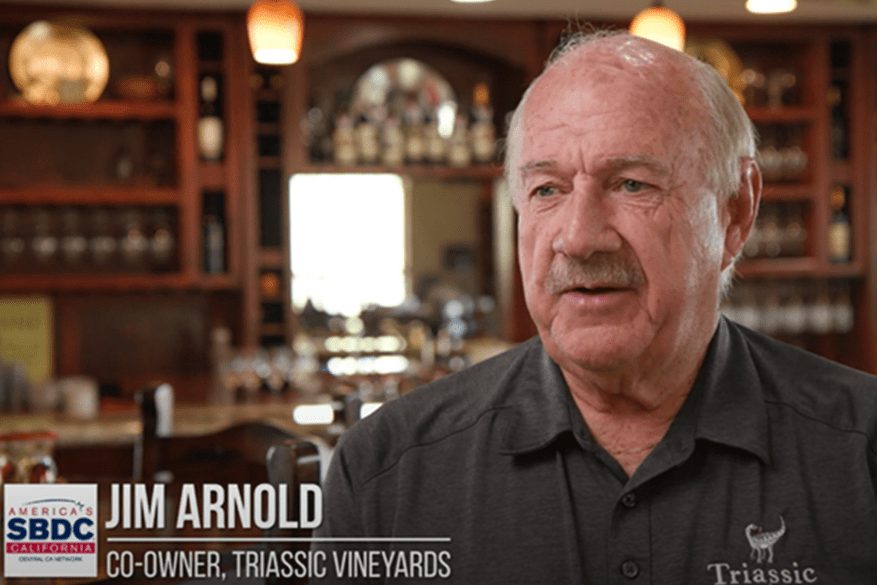 Location: Central Valley – Tehachapi
Small Business Featured: Triassic Vinyards
Assistance Received: Training, SBDC Guidance, Access to Capital
One of the most important reasons to work with a Small Business Development Center (SBDC) is the ability to access and use their resources, networks, and expertise. SBDCs offer their members access to funding, market analysis, business consultation, and technical assistance.
One of the biggest benefits to working with the Central Valley SBDC and the CalOSBA network of partners throughout the state, is the access they offer to funding. SBDCs can provide funding for a wide range of projects, from business growth and expansion to marketing and product development. This funding can be a key asset for businesses in the Central Valley, helping them to grow and expand their operations.
Enter retired couple Jim and Sally Arnold.
The Arnolds acquired Triassic Vineyards in 2012 and worked with Jay Thompson from the CSU Bakersfield Small Business Development Center (SBDC) to help increase sales.
Triassic Vineyards is a winery located in the small town of Tehachapi, California. The winery was founded in 1997 by the Sherrill family and is renowned for their eccentric brand of American wine, which focuses on Sauvignon Blanc, Semillon, and Chenin Blanc.
The winery sits atop a 7,000 acre scorching desert plateau, which provides unique terroir for producing high-quality wine. The vineyards are planted with a mix of Cabernet Sauvignon, Merlot, Cabernet Franc, and Petit Verdot, that are all grown on fertile volcanic soils.
See how the CSU Bakersfield SBDC helped them in their quest for success here.
California Office of the Small Business Advocate
1325 J Street, Suite 1800
Sacramento, CA 95814
Email CalOSBA
About Us